Dental Implants
---
Dr. Elzbieta Paul performs all types of surgical procedures in her office. She can extract hopeless teeth, graft extraction sites, place dental implants and restore them with beautiful natural-looking restorations. She can conveniently care for all your surgical and dental implant needs.
Call us today at 908-218-7999 to learn more and schedule an appointment.
What are dental implants?
---
Dental implants are root shaped screw fixtures surgically placed in the jaw bone to support a dental prosthesis such a crown, bridge or denture. Dental implants are permanent, not removable replacements for missing teeth.
What are the benefits of dental implants?
---
Dental implants replace one or more missing teeth and prevent bone loss after teeth are removed. Continued bone resorption after tooth loss leads to irreversible facial changes. Dental implants improve facial esthetics by stimulating the bone and maintains its dimension similar to natural teeth. As a result, facial features are not compromised by a lack of support. Dental implants provide stability for dental prosthesis and improve chewing performance. Dental implants increase the success rate and survival time of the restoration.
Dental implants improve overall psychological health and social comfort by restoring a patient's self-esteem in their own strong, beautiful and natural-looking smile.
Why choose us for your dental implants?
---
As an Associate Fellow of the American Academy Implant Dentistry, Dr. Elzbieta Paul is a leading expert on implant care. Dr. Elzbieta Paul graduated from the implant residency program and she completed hundreds of hours of continuing education training in implant dentistry.
 She is knowledgeable in cutting-edge technologies to optimize patient treatment outcomes, including digital radiography, 3D digital cone beam imaging, and digital surgical treatment planning and surgical guides. Dental implant patients are offered nitrous oxide or conscious oral sedation during their surgical procedures.
---
How long does it take to get dental implants?
---
Restoring teeth with dental implants is a multi-step procedure. The process involved in getting a complete implant restoration can range from one day to several months if bone grafts are required. The dental implants themselves are usually placed during a single procedure.
---
What are the steps in getting dental implants?
---
First, we perform a comprehensive examination to ensure that the surgical procedure is safe for you. If the hopeless tooth has to be extracted, a thorough medical history is reviewed, digital x-rays are taken and extraction procedure is explained to the patient. 
We recommend grafting extraction sites right after removing your tooth to prevent bone loss for future dental implant placement. The jaw bone has to heal for 3-4 months after extraction and grafting. Then a 3-dimensional scan of the jawbone(CBCT) is taken to evaluate the width, height of bone, and proximity of other anatomical structures to the proposed implant site. Based on the amount of available bone a dental implant is selected and the patient is scheduled for surgical implant placement in the office.
Sometimes implants are placed with the help of a surgical guide to ensure the correct position of implant fixture in the bone. Surgical placement of dental implants is a minor surgical procedure done in local anesthesia with an option of complimentary nitrous oxide sedation. Patients leave the office with a couple of small stitches in the gum and are advised to take some over the counter pain medication for a day or two.
7-10 days later, the patient comes for a follow-up visit, and 3-4 months later dental implant is ready to be restored with a fixed crown or bridge.
---
How much do dental implants cost?
---
The cost of dental implants varies depending on the type of implant restoration needed as well as any preliminary work required, like bone grafting. The cost of a single dental implant could be comparable with the cost of a 3 unit bridge. Many dental insurance plans cover surgical or/and prosthetic parts of dental implants. We can provide you with an accurate estimate during your consultation.
---
How can I get my denture to fit better?
---
Implant-supported dentures are the best option for dentures that fit securely and feel like natural teeth. Unlike traditional dentures, an implant-supported denture is held in place by dental implants instead of messy adhesive pastes. You'll never have to worry about your dentures slipping, shifting, or falling out ever again.
---
Types of Dental Implants
---
Single Tooth Dental Implants
---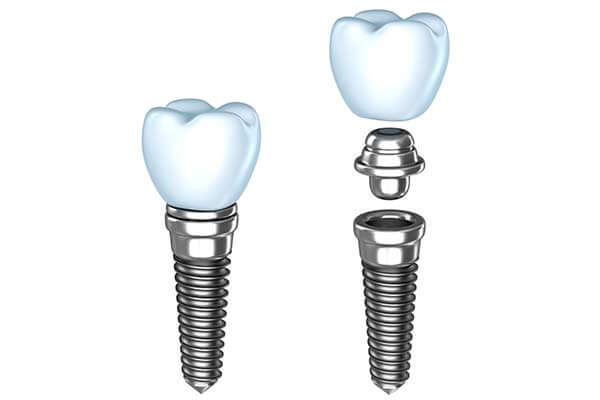 ---
A single tooth dental implant is a titanium or zirconium post that is implanted into the jaw where a tooth's root would be. An abutment is attached to the implant, and then an artificial tooth, or crown, is attached to the abutment. Dental implants result in a strong bite and can prevent and even reverse bone loss in the jaw.
---
Implant Supported Bridges
---
---
If you are missing three or more adjacent teeth, an implant-supported bridge is an ideal restorative solution. With this type of bridge, implants will be used to replace the two outermost teeth. These implants will be used to support two crowns connected by a bridge. The bridge is a functional and aesthetic replacement for your natural teeth.
---
Implant Supported Dentures
---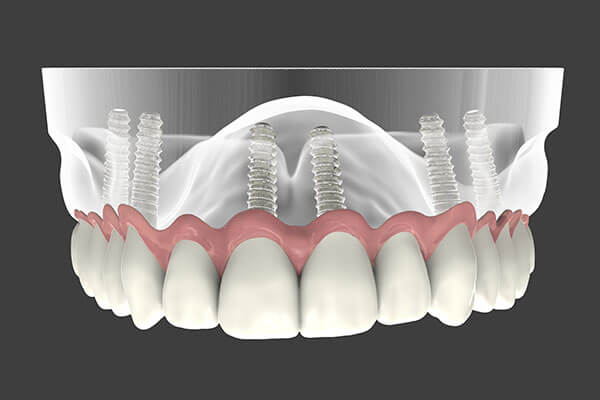 ---
---
When most or all of your teeth are missing, consider implant-supported dentures as an alternative to traditional dentures. While bone loss in the jaw continues unabated with standard dentures, the implants used to anchor implant-supported dentures can help prevent future bone loss and facial collapse. Implant-supported dentures are also more comfortable than traditional dentures, with less shifting and no need for messy denture adhesives.
Implant-supported dentures are held in place by two or more implants; to replace a full arch denture, a minimum of four implants is recommended. Implants can support both fixed as well as removable dentures and are a viable treatment option for any patient with sufficient bone density in the jaw and no other contraindications.
Full Arch with Only Four Implants
---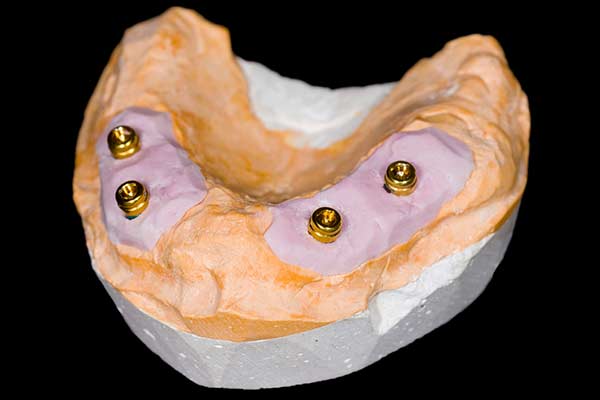 ---
A unique and economical implant solution, a full arch with only four implants allows us to replace all teeth in an upper or lower arch using only four dental implants as anchors.
---
Mini Dental Implants (MDIs)
---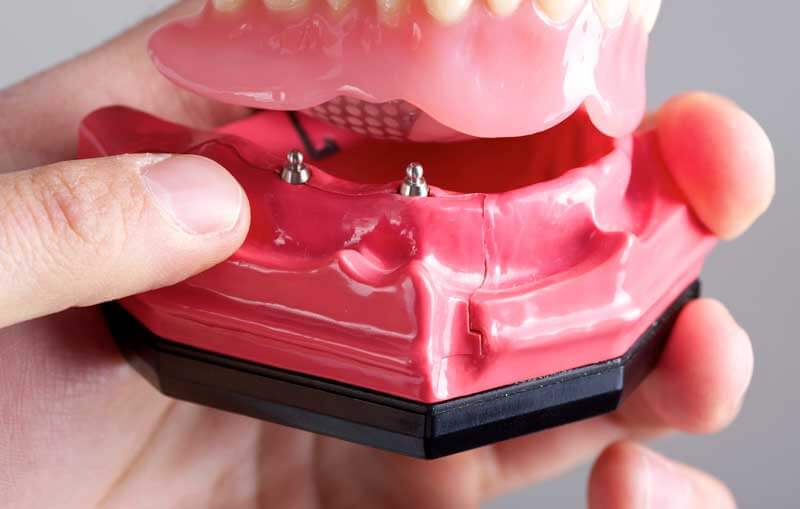 ---
When full-size single dental implants are not an option for a patient, we may be able to use mini dental implants or MDIs. These implants use a smaller titanium post, so they can be supported by jaws with inadequate bone mass for traditional implants or be placed in small spaces. While typical dental implants involve at least two visits and a waiting period of a few months to allow the implants and jaw bone to fuse together, MDIs often take a single visit from start to finish. They're also minimally invasive, only requiring local anesthetic and no sutures.
---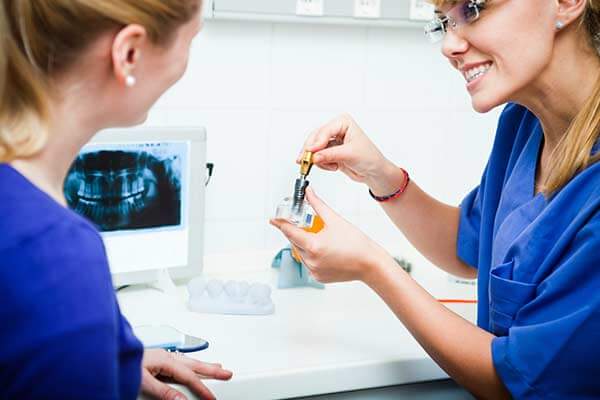 ---
Precision is crucial for dental implant success, which is why we use guided implant placement in our practice. With this technique, custom surgical guides are created with specialized software, telling us the exact location, angle, and depth of each implant placement. This increases accuracy, efficiency, safety, and predictability for optimal results.
---