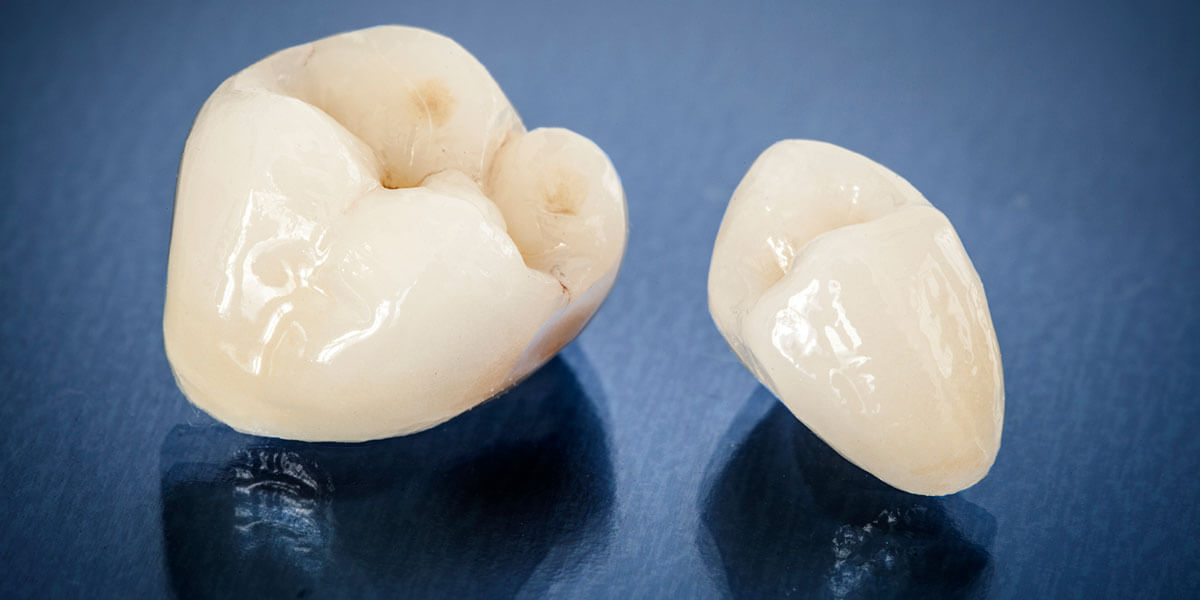 ---
Dental crowns are commonplace dental restorations performed in dentistry, but before that decision is made, a thorough evaluation of the dental problem will be done. At Pure Dental Care, we restore badly broken teeth with minimal tooth reduction using inlays, onlays, partial crowns, and full crowns. 
Call us today at 908-218-7999 to learn more and schedule an appointment.
---
Frequently Asked Questions
---
What is a dental crown?
---
The crown is a cover or cap/hat that is put over the tooth. The crown restores the tooth to its normal shape, size and function. A crown can make the tooth stronger or improve the way it looks.
---
Do I need a crown?
---
There are many reasons you may need a crown:
When the tooth is badly broken with missing more than 50% of the structure

You have a cavity that is too large for a filling to last

You have a tooth that is cracked and has to be sealed against further infection

You have a tooth that is worn down or weakened and has to be rebuild 

You had a root canal treatment on your tooth thus the crown will protect the brittle and dry tooth underneath

You want to cover a discolored or badly shaped tooth and improve your smile
---
What is a dental crown made of?
---
Crowns can be made from several types of materials: metal alloys, ceramics, porcelain, zirconia, porcelain fused to metal or composite resin. At Pure Dental Care, we offer mostly full ceramic crowns. Metal crowns are made only by request.
---
What is biomimetic dentistry?
---
Dr. Elzbieta Paul is an advocate of Biomimetic Dentistry, a practice that mimics the strength and beauty of natural teeth, preserves healthy tooth structure, eliminates pain, sensitivity and needs for root canals or tooth loss.
We work hard to preserve natural teeth structures by removing only diseased parts of the tooth. Traditional dental techniques rely on creating retention forms of the prepared tooth before placing the crown, which involves the destruction of intact tooth structure. We rely on advanced dental restorative materials and adhesive dentistry to restore your teeth with minimal tooth preparation.
We always use a caries detector to ensure that only decayed dentin is removed to preserve healthy parts of the tooth. Proper removal of caries is also essential to ensure the strong bonding of the restorative materials. 
We also use high-quality biocompatible bonding materials to prevent bacterial leakage around dental restorations. Biomimetic dental techniques help prevent unnecessary root canals and tooth loss. Ceramic restorations are fully bonded, not luted, to assure strength and to prevent marginal leakage. These restorations feel and look natural.
---
What are the steps of placing a crown?
---
It usually takes 2 dental visits to complete restoring your tooth with a crown.
Step 1. The dental crown procedure involves first numbing the tooth and selecting the color of the permanent crown. Then the tooth is prepared by removing existing decay or broken filling. A permanent white filling is placed (core build-up) to restore missing tooth structure. Teeth after root canal treatments often need a post to anchor core build-up. 
Next, the tooth requires a reduction for the thickness of the permanent crown. An impression is made to provide an exact model for your crown. 
After the first visit, your tooth is covered with a temporary crown made of composite and cemented with a sedative temporary cement. The first visit takes around 1hour 30 min. Before a patient leaves the office we offer an over the counter anti-inflammatory pain medication like Advil to decrease discomfort once the anesthesia wears off. 
Your crown is made in an advanced dental laboratory by trained dental ceramists, using high-quality scanners, microscopes to read the margins, computers to design your crown and sophisticated milling machines to fabricate it. 
Step 2. The second visit is scheduled for 2-3 weeks later. It is a good idea to wait a period of time before the permanent crown is delivered to ensure your tooth doing is doing well and does not require additional treatment. Very often patients do not have to get numb because it's a very short visit around 20 min (it's the patient choice to get numb). The temporary crown is removed and the tooth underneath is cleaned and sealed from bacteria. We then try-in the permanent crown with minor custom intraoral adjustments. Next, the radiograph is taken to verify proper fit and the patient approves the color and shape of the new crown before it is permanently cemented.  
Call us today at 908-218-7999 to learn more and schedule an appointment.